8 Rooms, 7 Mirrors, 6 Clocks, 2 Minds &199 Panes of Glass
Lauren E. Simonutti at Catherine Edelman Gallery, 300 W. Superior St., Chicago 60610
January 8 - March 6, 2010
There's a phrase in poetry: "It's not what you say, it's what you don't say." Writers will tell you that the power of allusion is a valuable one in giving readers information in a creative and fun to read way. This phrase seems especially relevant while enjoying Lauren E. Simonutti's evasive and compelling show, "8 Rooms, 7 Mirrors, 6 Clocks, 2 Minds &199 Panes of Glass."
Simonutti's original images are beautiful, totally analog photographs, including hand toning and bleaching the black and white prints. The artistry is subtly complicated, while maintaining the perfect image of stillness. The work seems to contradict itself, many images settled upon stern geographic shapes, while others are organically flowing. The images are stark in all senses of the word. They feel troubled, delicate, tragic and very still -- as if trapped completely.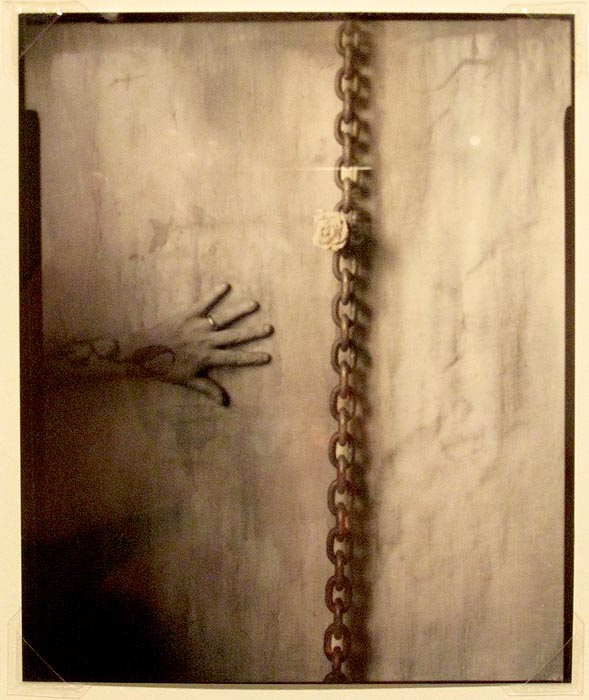 If Bruises Were Kisses (5 x 7 in., toned gelatin silver print, 2009) Lauren E. Simonutti

Muted color, harsh shadow, meticulous arrangement of composition within the frame and calculated display of texture (bedding, chipped paint, old brick, etc.) whisper of beauty and draw the viewer closer to the work itself, trying to get even more out of the small 4 x 5 or 5 x 7 photos. Meanwhile, an eerie sense of disease seeps through, repelling the viewer with suggestion of isolation, unrest, and sometimes violence. This is done by situating the subject (not every piece features a figure, but in those which do, Simonutti herself is the model) on the periphery of the frame or having legs or arms entering the frame at strange angles, or by double exposure, creating a ghostly effect. The figure is never fully illuminated. There is tension and a feeling of incompleteness.

Along the far wall of the gallery, there is a series of images in which the vertical parallel line is used and repeated. This elongates the rectangular photos and gives them a foreboding indestructibleness. Strong shapes offset the delicacy of other images, such as flowers or flesh. Simonutti explains in her eloquently worded artist's statement about how she is experiencing life with "rapid cycling, mixed state bipolar with schizoaffective disorder." She goes on to mention: "Madness strips everything down to their core. It takes everything and in exchange offers only more madness and the occasional ability to see things that are not there." Viewing the show, one is bound to commune with this statement, even while feeling that you yourself just might be seeing things that aren't there!

Besides the eloquent statement which greets viewers upon entering the gallery, Simonutti also wrote a stirring poetic piece to accompany a sub-set of photos which she calls the Devil's Alphabet. The writings were a huge selling point for me, having the love that I do of good literature and especially good poetry. The written art did not detract from my attention to the visual art, but rather enhanced my appreciation of the amount of thought and eclecticity which has been poured into this show.

Even the gallery in which this exhibit hangs lends itself to the disbarred mental state within the photos. The walls are starkly white and while I was there, no music accompanied the art, only the groaning creak of the wooden floor and ceiling as people crossed the gallery upstairs. You can (and I recommend that you do) view Simonutti's show.