Every third Friday, you're invited to come hang out at the semi-swank Zhou B Art Center for open gallery night where the gallery's many exhibitions and studios all stand open for the public to revere. When the first thing you receive upon entering is a slice of chocolate cake, you know it's going to be good. The Zhou B Art Center has a front entrance which leads first to the Zhou B Cafe, then to the vast concrete gallery space. The back entrance frames the rear exhibit room. The gallery go-ers, all dressed to the nines, milled in front of abstract splashes of color. This exhibit room, wooden floor paneled and warmly lit, can usually be counted on to house a worth-while collection.

This time, it was a show called Terra Focus by painter Alberto Paniaya. It is an apt name to describe Paniaya's organic forms, earthy colors in sunny or dusty tones, loose lines and remarkable lacquer technique, streaking the canvas with uneven blotches of brightly reflective glaze, making the canvas appear soaked, as if you had taken the piece into the shower with you and after fogging it up, ran a hand over it. The overall effect is terrestrial, understood only innately, in a comfortably abstract way, just like the paintings themselves. As in most cases, the artist was hanging around, offering handshakes and answering questions. He also had two tables of hors d'oeuvre and drink including … chocolate cake.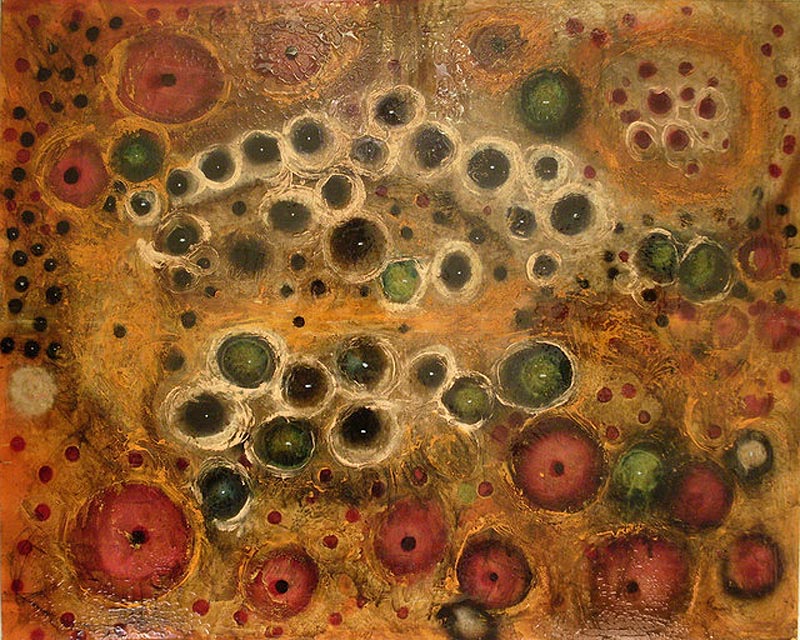 Embryo (n.d., mixed media, 48 x 60 in.) Alberto Paniaya

The rest of the ground floor is concrete, pillared and speckled with large-scale wooden sculptures and the walls are covered in large paper panels painted with primative, broad designs, created by the Zhou Brothers themselves. The space is large with tall ceilings and many open-walled rooms. An MC has placed himself and some gallery wares in a conspicuous place, pumping a jauntily-remixed version of The Postal Service. There are sporadic little pods of chilling space, outfitted in cush lounging equipment, complete with blue and green mood lighting where art-types gather together. Different sources of music bled into each other and amid the rushing voices, I felt more like I was listening to a nightclub rather than the usual timid hum of an art opening.

The celebratory mood continued downstairs where a large portion of the space was given over to couches and a singing guitarist. The crowd was young and excited, pulsing in and out of the many studios. The first canvas I encountered was a large square work with four exquisitely painted figures in vivid colors, one emerging from each side. More works in matching style wrapped around the corner to Rory Coyne's studio, and to the man himself -- in duplicate. A convincing self-portrait mused in the corner while Coyne greeted guests. All of Coyne's work is figurative and many whisper likenesses to Egyptian deities, sporting the heads of assorted animals. He likes stark disjointedness , odd angles and detailing textured backgrounds. The well-sculpted forms with a tendency towards mythology combine a taste for classical realism and one for smiling allusion.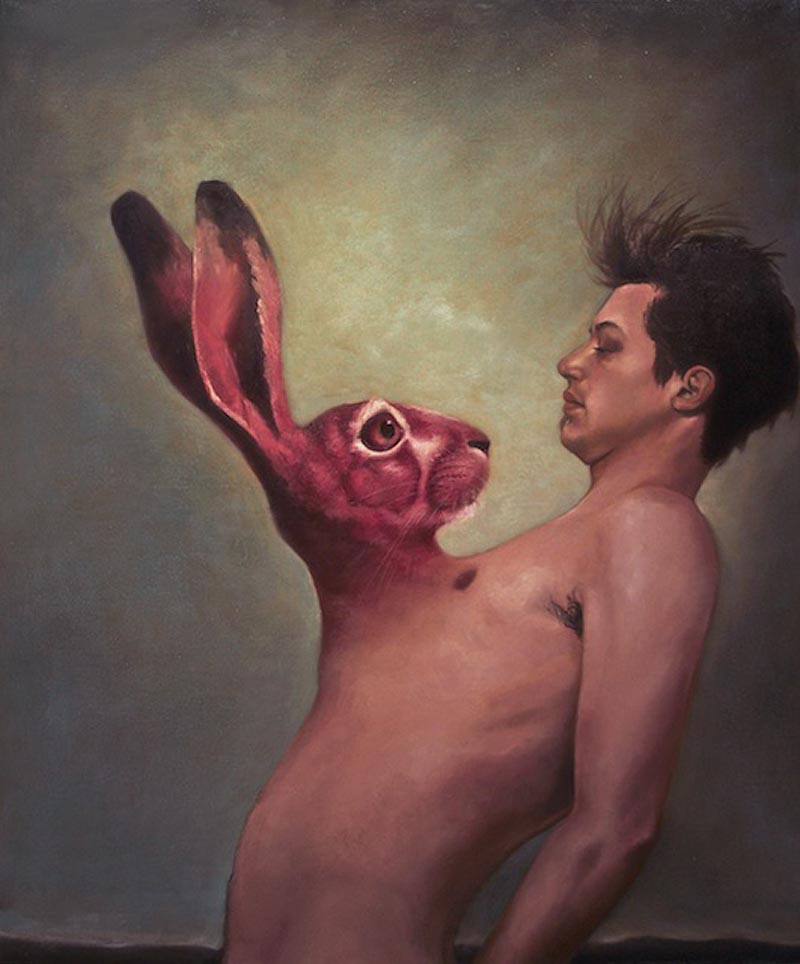 Another (Conversation) (n.d., o/c, 6 x 6.5 ft.) Rory Coyne


It felt good to be among an enthusiastic crowd who had all come together in the spirit of celebrating art! Most of the artists show their welcome by providing tables of complimentary snacks. The girls could be seen smiling in their cute new something-or-others and fingering cookies or carrots, the gentlemen communing over free beers. Everyone sharing opinions, taking pictures, and interacting with Chicago's great art community. As I continued, I found Elsa Muñoz's studio where the theme seemed to be "impending doom". She had several small oils of densely-colored skies filled with tornados on the instant of contact. A larger canvas showed a twisted branch on a table, the end just beginning to smolder. Not everything is ominous, though. Muñoz's portraits are of expressionist quality with fine, gentle detail. Her piece "Natalie" has photo-esque realism with painterly effects, reminding us of the painterly quality one really does see in the life of a blushing girl's cheek.
The upper floor entry hall is lined with toilet bowls. Those crazy conceptualists! But to freshen the place up, a slight hint of earthy richness infused the air where a growing-wall sprouted broad, thick, waxy leaves and delicate fronds, all bent towards the ceiling. The plants are full, healthy and verdant, so much so that they look slightly fake. What a piece for the living room wall! You can literally breathe in the art. Artist Yva Neal stood guard to protect the delicate wall from curious fingers. She is excited about the present and future reality of vertical gardens and spoke on the process and the benefits of growing a planted wall. Neal also paints and designs fashions. All of the wearable art she makes show off her sewing skills. The beauty comes from the cut and arranged layers of differently-patterned material. Her paintings are more stoic with simple, bold colors and shapes. I was excited to sign up for her shirt-making class. Going to classes are the perfect way to support the artist while incorporating yourself into the active community.

One other exceptional artist I must mention is Martin L. Bernstein and I must mention him because his art has exploded truly and completely inside his studio. This man's art consumes the space; it's in in the style of ivy consuming a university wall. I guess it could be called junk art in that it's composed mostly of found junk; bent nails, discarded jewelry, broken, used and useless stuff that's paint-blasted and arranged in an additive fashion on walls, pieces of furniture, accouterments like hand-mirrors, and made into bulky, complicated jewelry. His entire studio is hung thick with beads and unrecognizable materials so that the visitor must maneuver through the art like someone on jungle safari moves through low vines. I like the busy bulk and the interactive, mysterious quality of Berstein's studio.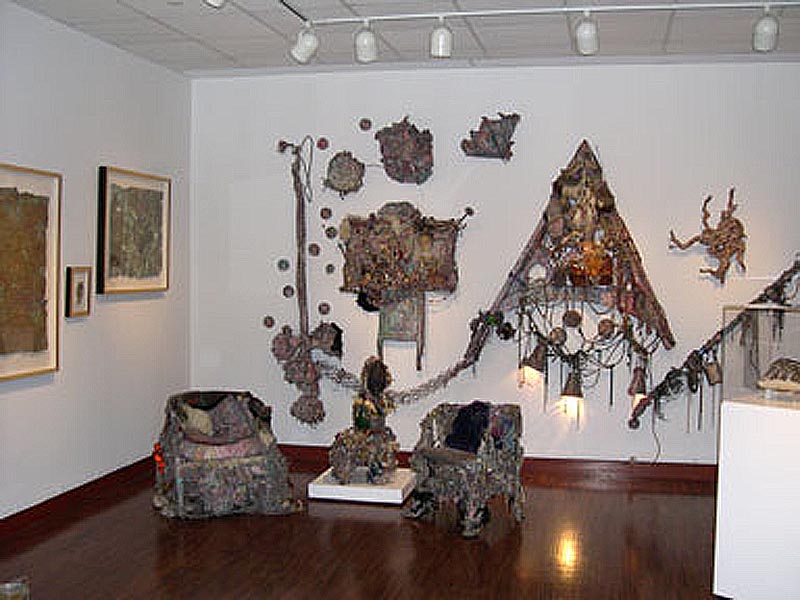 Personal Odyessy (mixed media installation, Weston Art Gallery, Cincinnati, Ohio, 2006) Martin Bernstein

Generally speaking, the whole gallery was impressively interactive with the new intention to impart a more club-like vibe where a younger crowd feels edgy and en vogue. The art scene is the new cool after-dark socialite scene. Which, I think is pretty great.

. . . If the enthusiasm continues to center around the art and does not begin to swing towards indifference when too much distraction takes away from the purpose. Events like Third Fridays at Zhou B encourage the enlivened community to converge and experience the new thought in local art and I encourage art lovers to be a part of this up-and-coming revamped place, but please, with the intention of art at heart.