Fat dragonflies form a loose cloud maneuvering in slow, delicate chaos above the bouldered lakefront shore. Shades of blue give way to one another, shifting the gridded waves. A picturesque sailboat slices through the milky skyline. The captain and I breath Chicago's summer up. I'm in the backyard of the North Lakeside Cultural Center, waiting for tonight's event to begin. I'm here to see International Art Group presents "Cultures Connecting" and "Where Do I Belong?" a show curated by Marianna Buchwald, Mary Quian, and Dorty Nowak. The old building, in a classic Chicago design, has character built right in. It's stuffed with rooms in an eccentric array. The lower level front room is warm and flooded with light from the bay windows. The hors d'oeuvres table announces itself in another room but the real party is upstairs.

Between Here and There (mixed media) Terry Bouton

As I scale the steps, several portraits of glamorous women painted onto rustic, woven mats gaze at me. The ultra-chic, fashionista images contrast harshly with the warmth of the ruddy mats. This contrast is to be a broad reaching theme of the night. Offsetting the painted mats is a large-scale abstract of parallels and perpendiculars. It echos the glassy geometry of city tower windows, a cool, stoic piece. Over 35 artists are represented tonight. The halls are amply lined with pictures from a clear variance of artists ranging from graphic-novel caliber post-apocalyptic ink scenes to quaint pencil sketches, to figures in chunky dabs of oil. I'm taken by one piece in particular, the back of a nude female from artist Sandra Simonson. Bold colors are mixed into the skin tone and the strokes are heavy, thick. The image has weight, but the curve of the pose is sweeping and light.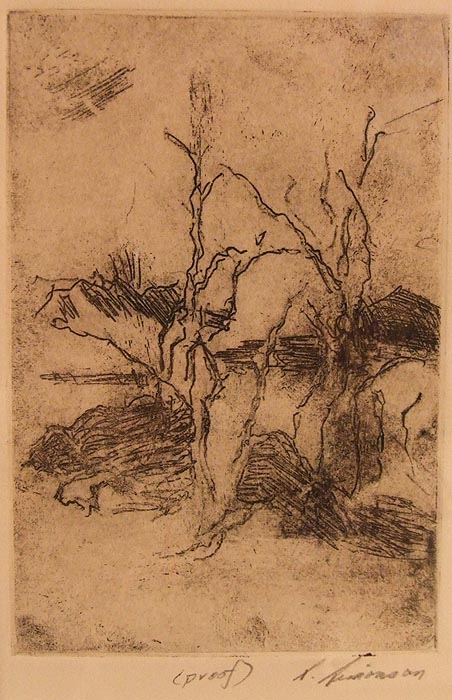 Winter (intaglio etching) Sandra Simonson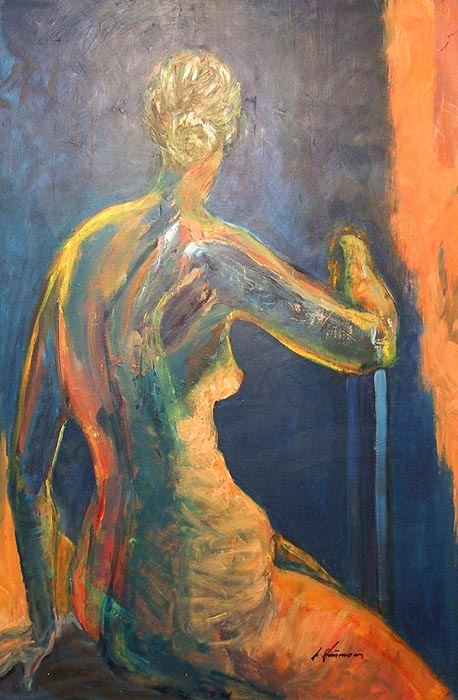 The Lady with the Golden Hair (o/c) Sandra Simonson

Rooms are decked out in charcoal sketches in a style quite near German impressionism, bizarre sculpture, and oils in the schools of realism, impressionism, abstraction, even art deco. Carmen Sauciuc pulls her style straight from the '30's. The simple grace of the lines, chopped into blocks of thick color and the cool disconnectedness of the subject give her piece, 'Girl', a mysterious "there - not there" presence. It's also hard not to notice Amani Borh's work in the corner. I love it right away. Amani creates a fun-house visual for the imaginative viewer. Repetition of shapes and patterned intricacy in stunning, abrasive color including bright neons, matched with a focus on abstracted organic forms make these nonsense drawings pop. The line work, presumably ink, although medium is not specified, is so delicate and fine that the color gives motion to the design and manages to attain an unexpected hair-like quality.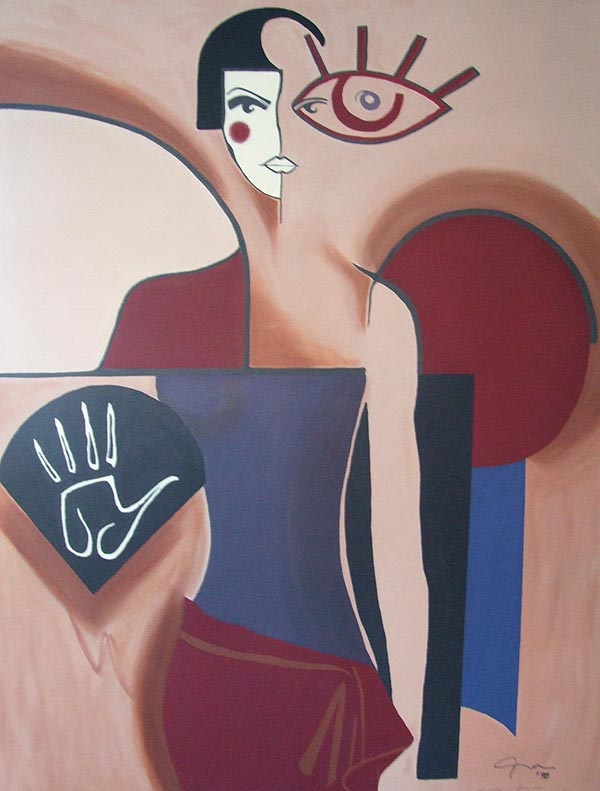 Girl (o/c) Carmen Sauciuc

One of the rooms is designated to a sister show, sort of a gallery within a gallery. There is a theme for this show, all the artists were prompted by the question "Where do I belong?" and were able to choose from about ten sub-themes, including religion, geography, and inner-self. The prompt has worked well to inspire some very exciting pieces. There are a few conceptual-realism pieces, a genre of which I am particularly fond. Here is a canvas divided in half to juxtapose a stern-browed bust with a meek looking fellow in trousers. It is bathed in sepia tones which loan a nostalgic contemplation. Here is a strange mixed media sculptured hodge-podge babydoll perched on a suitcase, odd and nice to look at. Here is a piece by co-curater Mary Quian featuring a self-portrait of the artist from behind, gazing into a gaping sea of faces and a mist of creative possibility.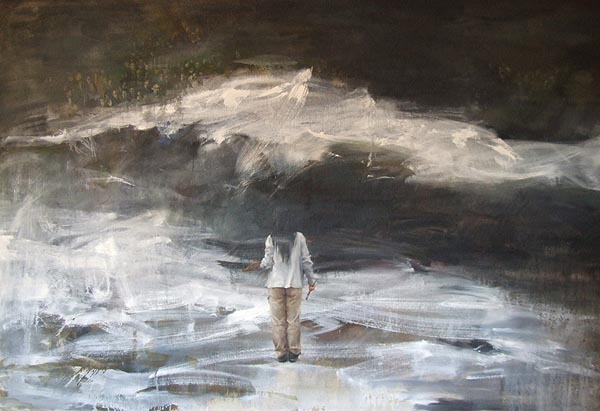 Where Do I Belong (o/c) Mary Qian
Besides the wild gambit of styles, this show is special in another way. The creators of the show wanted to make it full-experiential. Fine artists of many practices were invited, including singers, musicians and poets who were matched with painters in the hopes that collaboration between the artists might enrich both pieces. In some cases, the partnership worked well, in others, not so well. The poems were posted next to their respective paintings and a few were read out loud by the authors. With the writers reciting next to the parallel image, I noticed that, for a few at least, the impression made by both pieces was taken to the next level when experienced together. Especially exciting was Gerry Lucas's recitation of her two pieces. They trip, singingly along rhythmic emphasis. Normally, a viewer has only the painter and him or herself to point him or her towards a conclusion while considering some work. The third party involvement gives perspective on a stranger's interpretation of the same piece, while providing an extra medium for viewers to connect to.
I hear some lilting, meandering music stylings from the next room and find my way to where acoustic guitarist Dan Casiallas is charming art goers adjacent a wall of panoramic photography. I have to slip behind him in order to get a closer look at Yoona Lim's collage art. Yoona's work is delicate, with funky patterned shapes and a nod towards surrealist imagery. The attraction is definitely in the color and images used, however, the viewer is also nudged to appreciate the well-placed negative space around the images.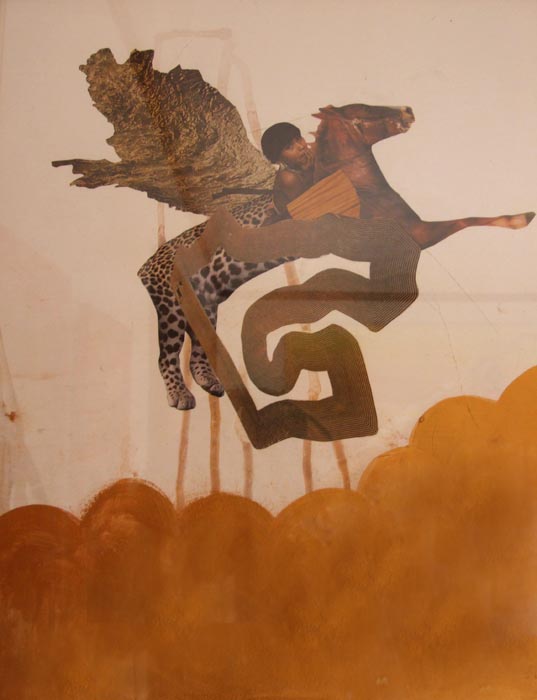 Untitled #2 (collage) Yoona Lim
Downstairs, an operatic soprano floats in the higher reaching registers of the front-room. Live musicians have the floor for the rest of the night, continuing with Victor Cuellar's acoustic guitar and spiced voice singing '40's era tunes from Mexico, then some sweet, folky blues sung by Katherine Gauthier. This, accompanied by a short, fluid dance by masked and costumed co-curater Marianna Buchwald. Later on, enthusiastic pianist Ted Ehnle shows off his Chopin. So much talent, beauty and art in one place seemed to please the laid-back crowd of casual patrons and turned out to be, in my book anyway, a fun and successful gathering of multi-layered creative forces.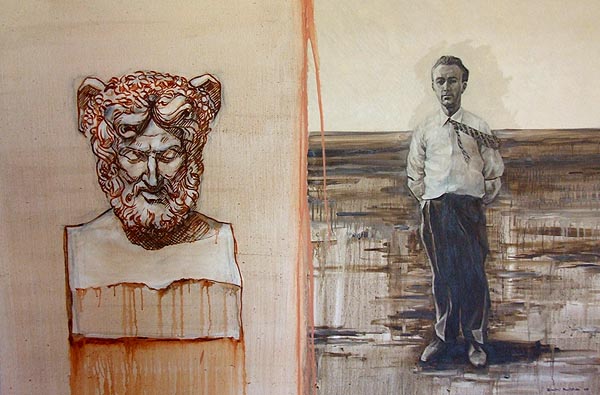 Morpheus (o/c) Dmitri Pavlotsky
You can visit the show Wednesdays from 5 to 8, Saturdays from 12 to 5 (except August 7th), and Sundays from 3 to 8 at 6219 N. Sheridan in Chicago. If you want the holistic experience, you can attend the closing event on August 14th where live music and poetry will be performed.