Family resemblance -- that indication whether visible or in temperament, of a common providence. If you have siblings, no doubt you've heard a time or two about the ways in which you are similar. I think people appreciate picking up on the common threads stitched throughout a family fabric because they illuminate some core essence of the group as a whole. Where are they from? What are their core values and shared characteristics? Those common traits give the family a sense of unity with each other and distinction from others.
I met two sisters recently. First one, then the other the following week. It is plain to see they are related. The resemblance is clear. They are the sister galleries, Abend and Gallery 1261.
First, I visited Abend for the "Animalia" show there. You can read my review of that show here: http://www.uturn.org/Capblog/blog12.htm. I was impressed by the representational quality of the selected works in the show. Abend has a sharp taste toward classical talent -- but also toward funk. There is a young, urban pop to Abend. A sense of humor, an eccentric style. She is more the free thought, exaggerated realism, larger-than-life, new movement type. Then last Friday, I met her sister, Gallery 1261. I immediately noted the artsy-chic environs, established confidence, and refined taste. She must be the beautiful, mature older sister, high-bred, and highly educated, yet slightly reserved. In both sisters it is clear they have roots in the same aesthetic.
So where does that come from? The family dynamics are a little bit complicated. Chris Serr is the owner of Abend and co-owner, along with local artist Quang Ho, of 1261. Chris's son, Connor, and her brother, Dave, are each co-curators at Abend and they manage and direct (respectively) 1261. Working so closely with each other and with both galleries, the values and aesthetics of the common family are incorporated into the collections on display in both places.
The show at 1261, called "Group Exhibition XIII," is, as you might imagine from the title, not as thematically potent as Animalia. Personally, I enjoy seeing themed shows for the focus and the story-telling it brings to a collection. I tend to see more far-reaching, eclectic pieces with a themed show because you never know where an artist's mind will carry the prompt. In "Group Exhibition XIII," I was still able to feel a consistency throughout the show, but due more to the personal preferences and "eye" of the curators rather than any narrative or collective creative vision of the artists themselves.
Gallery 1261 prominently features figurative work including several portraits. Figurative work, and portraits in particular, are historically difficult for galleries to sell. Even the most gorgeous portrait of the most angelic sylph is still just a picture of some girl's face you don't know. For gallery owners trying to appeal to collectors who will have that anonymous girl hanging in their home, it can be a hard sell. That's why you don't often see a commercial gallery show classical representational style portraits. Quang addresses this in his statement regarding the mission of 1261, "It's about the art. It's about pure artistic expression. It's about the work an artist creates for his own soul … done without constraints of marketing strategies and sales quotas." A place with that mission might be a Shangri-La for artists practicing the noble craft.
Let me wax poetic, now, about some of the highlight pieces in "Group Exhibition XIII." Shadows on Blue, one of several figurative pieces by Suchitra Bhosle, caught my eye as being one of the most elegant figurative pieces in the show. Reflective and calm, the shades of blue here are many, and to great effect. The title is apt, for the piece is swimming in variants of shadow. Bhosle's representational touch stops short of photographic, moving brush strokes beyond their allotted place in line. The effect is slightly smudgy, inviting the experience of texture, giving the scene a 'remembered' quality. Small, thoughtful brushstrokes create halos of value, not blending just enough to craft that painterly feel. As with most art, this lovely piece should be examined face-to-face to appreciate its care and multi-faceted complexion.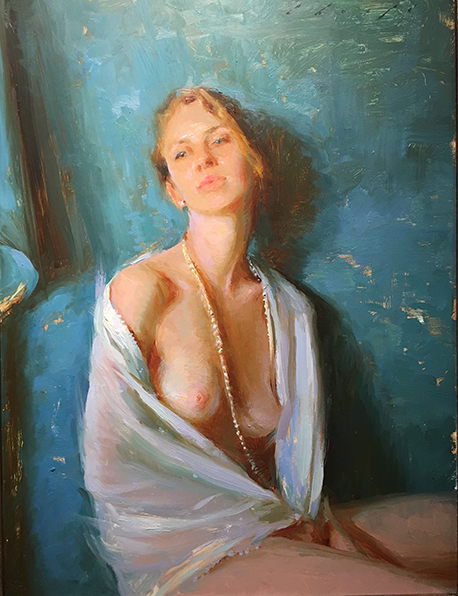 Shadows on Blue by Suchitra Bhosle

In a similar vein, Legend on Yesler is an emotive impression of a cityscape. Normally unimpressed by portraits of buildings, I include this piece by David Cheifetz here because of its movement and balance. The loose strokes in this case are reflective of water, as if it has just recently rained onto this city street, the headlight beams ricocheting off the city-dusk pavement. This piece is, at heart, a color study – an orange shape curling up against a blue shape, their partnership made all the more poignant by the encroaching gray shape around the edge. We fade into indistinction as the radial crosswalk lines escort us out of the frame.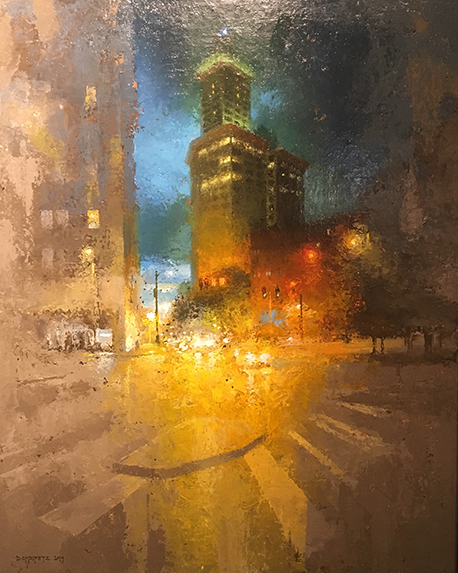 Legend on Yesler by David Cheifetz

Another piece that provoked my wonder is a large-scale piece painted on two adjoined boards. It's called The Rest of You Are Just Visiting/A Thousand Faces, by Vincent Xeus. In this monochromatic snapshot scene, we are in a crowded place where gentlemen gather tightly around a single, remarkable woman, Marilyn Monroe. The provocative part about this piece is that the style used by Xeus is impressionist. There are no contour lines here, no details to speak of. Only broad, hurried strokes and splotches of tones put together. In the detail image, you can see clearly the areas of color blocked in against each other in an almost devil-may-care arrangement. How is it possible, then, for Xeus to achieve a likeness without the use of line or color? It brings to mind those collaged images made up of many many smaller images, their pixilated values combining at further distances to coalesce into a solid portrait.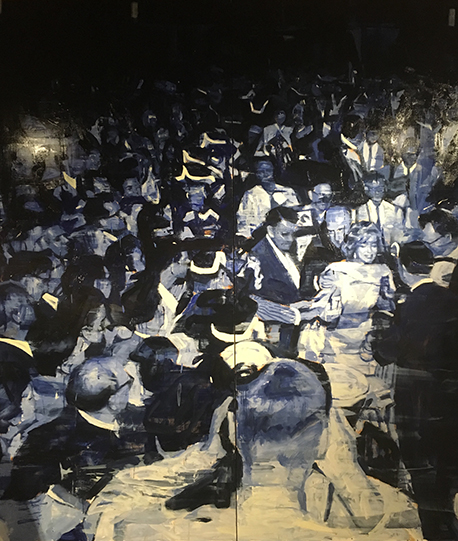 The Rest of You . . . by Vincent Xeus

Continuing on further into the realm of abstraction, we arrive At The Black Sea with Ulrich Gleiter. Although this piece is in oil, it looks like it could be encaustic by the thick dabbing texture. Not only can I see every stroke, I can feel them all, too. Gleiter puts together a fleeting, moving environment, tree limbs bobbing, water lapping, clouds traveling on their way. Again, I'm not usually one for landscapes, but in the vein of near-abstraction, I think the color choice and direction of the hand shown here effectively illustrates a time and place.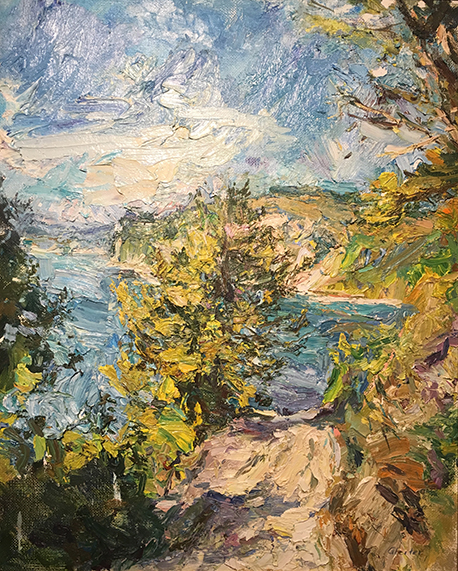 At the Black Sea by Ulrich Gleiter

There are countless beauties in the 1261 collection. Many, so finely detailed and orchestrated with subtle motions of the brush that reproductions and descriptions don't do any justice, they only serve as enticing advertisements for the real thing. You have to stand in front of an original and study it patiently, in true lighting, to appreciate its messiness, its personality, its story.
They're waiting for you at Gallery 1261.